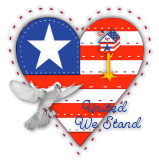 Welcome to the Proud American's & Friends Webring
If you have a web site that promotes patriotism or support of the USA, or you are a friend of the USA and you have a site that shows support for the tragic events that have not only happened to the USA but effect you as a person living in our world today, you have come to the right place.
Our members are Proud Americans and love our country, Friends of Americans, also people that have been effected by events that have occurred in our world today. Only positive people that want to share and support one another in our world.
If you would like to join this Webring, follow
the steps below... United We Stand!
PLEASE NOTE*** No pornographic sites or links or sites
with adult content within the domain. Thanks!